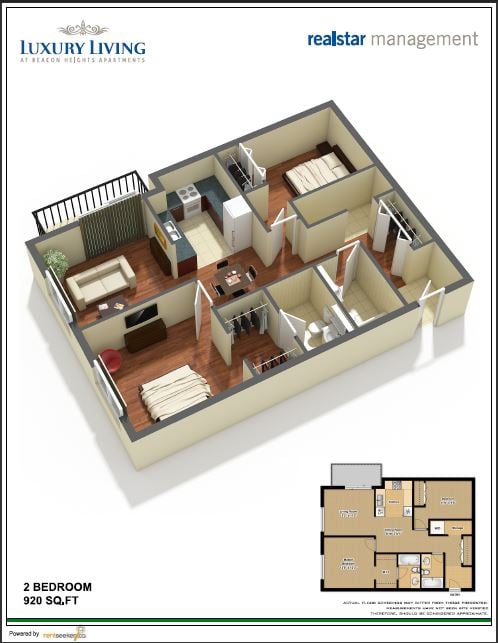 On the hunt for a new place to call home? With so many layouts and apartment styles to choose from, it can be a challenge to determine if a one or two bedroom apartment is right for you. While a two bedroom apartment might seem excessive, particularly if you will be living on your own, the extra space can be just what the doctor ordered to truly make your apartment feel like a home.
Don't limit yourself to a studio or a one bedroom suite – two bedroom apartments offer increased flexibility and, yes, even money saving opportunities.
Mi Casa, Su Casa
It might seem counterintuitive to rent a two bedroom apartment if you are living on your own, but trust us – the options that will open up to you with that extra room will be worth it. Have family coming in to visit? Unexpected guests that need somewhere to stay? Come to the rescue with your second bedroom as their home away from home. Don't worry about going overboard with furnishing the room – a simple bed or even a convertible couch will suffice. Having the option of giving friends and family members a comfortable place to stay is perfect for those who have had to move away from home for school or work.
The Roommate Factor
You don't want to have a roommate right now, but maybe you will in the future. By renting a two bedroom apartment you will always have the opportunity to rent out your extra bedroom to a friend or a student (particularly if you live close to a university or college campus). By doing so, you will save money on your own rent and have someone to split the utility costs with. If you travel a lot for work, you may even wish to consider subletting your apartment for a few months. With the extra bedroom in your back pocket, your two bedroom apartment will be even more appealing to potential subletters.
The Office of Your Dreams
If you have a home-based business or simply do a lot of work on your computer at home, converting your second bedroom into a stunning home office will encourage you to get more work done (OK, that might be wishful thinking – but it will definitely be a great addition to your home). Having a quiet, tranquil place where you can get down to the nitty-gritty of running your business is a great option that should not be overlooked. When you work from home, it's important to have a space that is designated for "work" so the rest of your two bedroom apartment can be home.
Hobby Home
Another advantage of renting a two bedroom apartment? You have adequate space to pursue your hobbies, like painting or practising a musical instrument. If you are a collector, your second bedroom can double as a "showroom" for your pieces. Imagine your own personal library that you can retreat to at any time – now that is a dream that can be easily realized with a two bedroom apartment.
Family Ties
Newlyweds or those planning to start a family will relish the idea of renting a two bedroom apartment, because it means that they will not have to move when baby is on the way. Instead of stressing about finding a new home, packing, moving, unpacking and everything else that comes along with the new apartment search, you and your partner can relax and prepare your second bedroom for the arrival of your little bundle of joy.
If you've decided to convert the extra room in your two bedroom apartment to a home office, you'll want to know how to furnish and decorate it. Apartment Therapy has you covered in their piece "5 Mistakes Everybody Makes Decorating Their Home Office":
1. Ignoring the walls… and the floor.
The difference between a cubicle and a warm, inviting home office is all about what's on the walls. A fresh coat of bright paint and a few inspiring prints hung in frames on the walls can make all the difference. And don't skimp on the floors; consider bringing in a coordinating rug to warm things up.
2. Leaving cables undressed.
We'll defer to the simple words of the fourth rule of Tech Club: Do not show your wires and cables. Keep cords hidden as much as possible, at all times. If you don't tackle the cable spaghetti behind the desk when you first set up your home office, be honest…you'll never get around to it.
3. Buying a good-looking but uncomfortable office chair.
Life's too short to sit in an uncomfortable chair. If you're going to be spending significant time in your home office, choose function over form every time. There's 6 things you should look for in a perfect office chair: Adjustable height, a reclining seatback, armrests, a deep seat depth, proper wheels and adjustable lumbar support.
4. Not really thinking about lighting.
Overhead fluorescents? Good enough, right? Wrong. Spend some time thinking about the light in your office. Complement overhead lighting with a bright task lamp on the desk. And think twice about your lighting and window placement in relation to your monitor to avoid annoying glare. Giving your office lighting plan a second thought will save you from (sometimes literal) headaches down the road.
5. Choosing furniture and features without storage.
Sure, that Parsons-desk-and-floating-shelves combo from the showroom looks great, but without cabinet doors and drawers to hide away your paperwork and gear, you'll be left with a mess on your hands. Plan on having at least one or two pieces with lots of hidden storage space.
There are also good reasons for renting a 1 bedroom apartment or 3 bedroom apartment which we will elaborate on in future apartment living blog posts.
The RentSeeker.ca Team