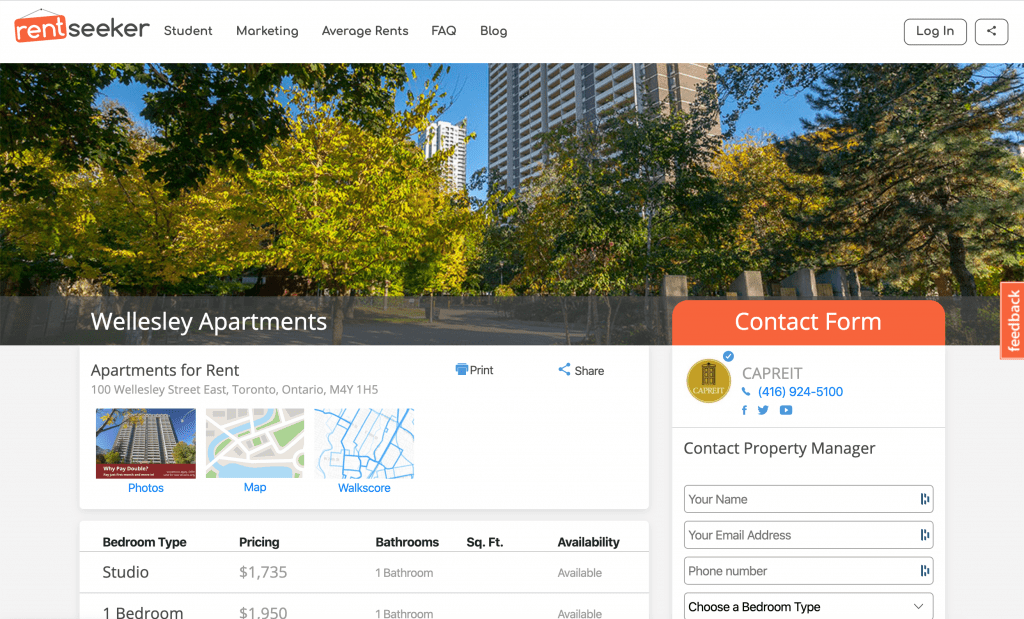 When it comes to advertising your rental properties online, it is now easier than ever to promote your property and generate interest in your units available for rent and drive great qualified leads for your rentals and at a fraction of the cost of print Ads.

So you've got a great apartment in a great location. But that's not necessarily going to sign the lease. With so much competition on the market these days, how are you going to set yourself apart and attract great residents? Do not underestimate the power of a well-written / well-formatted rental ad! This guide will teach you how to write a rental ad that works.
1. Title Check
A quick check of the rental listings on Craigslist Toronto shows more than 100 ads posted each day.
ILS's (Internet Listing Services) such as RentSeeker.ca have thousands of ADS posted monthly.
So, how can you ensure that your apartment rental ad is noticed in such a competitive marketplace?
First and foremost, you need to have a catchy title that stands out from the rest. Use descriptive words and put some of the features of the apartment in the title – this allows your ad to come up when potential renters use the search functionality and on Google.
For example, if the apartment you are renting features in-suite laundry facilities (a huge selling point for many renters!) your title could say: "Spacious, bright 1 bedroom apartment in a diverse neighbourhood with in-suite laundry".
This makes your ad stand out from the glut of "1 bedroom apartment for rent" entries.
2. Get the Point Across
Now that you've got renters interested and they've clicked on your ad, how can you entice them further?
You want to give as much information as possible about the apartment and the building, preferably in point form to keep it easy to read (large blocks of text generally turn readers off).
Start off with the basics – the number of bedrooms, bathrooms, the cost of rent per month and if you require a lease and what term.
Then you can get into the specific selling points: balcony, laundry facilities, hardwood floors, floor-to-ceiling windows, new bathroom fixtures – anything that makes your apartment special.
You will also want to include information about the neighbourhood and its amenities. Is public transit nearby? What about schools, parks, gyms and coffee shops? These features show the livability of the neighbourhood and generate more interest.
And lastly, make sure to highlight a call to action i.e. the rental office phone number and email address for quick reference to contact you.
3. Scope the Competition
It's a good idea to check out the competition before you compose your ad. What are landlords in similar buildings and neighbourhoods saying? Are they flexible with things like move-in dates and pet ownership?
Knowing what your competition is doing will allow you to better understand what your ad needs to say to entice more potential renters.
It can also help you to make changes to your own rental agreements if you are finding that you are losing many renters to other buildings in the area.
For example, if you refuse to allow pets of any kind, you may want to change it to allow small animals within reason.
4. Photo Op
Last but certainly not least, and the importance of this cannot be overstated – include pictures! Several pictures!
You increase your chances of having your rental apartment ad clicked on if photos are included.
Most free classified sites, as well as ILS's, allow you to include photos at no additional cost.
You should upload photos of the most attractive selling points of the apartment and even of the building itself. Ensure the photos are not blurry and clearly show the value of your apartment for rent.
Photos help potential renters to really "connect" with the property before they even come to view it.
Of course, in today's marketplace videos can also be a fantastic selling tool – for more information about apartment video production and marketing, you can check out: www.Videos.RentSeeker.ca to learn more.
Following the steps above should greatly increase your chances of attracting the right resident.
Happy posting!
Related: Apartment Lease vs. Rent – What is the difference & why it matters
-The RentSeeker.ca Team